01/12/2020
"Our Soil is Our Heritage" as a stream for World Soil Day
"Our Soil is Our Heritage" will be available from 5 December 2020, just in time for World Soil Day, as a stream exclusively in the W-film online cinema in our new shop at https://www.wfilm.de/en/our-soil-is-our-heritage/film-dvd-bluray-vod. The dedicated environmental documentary for sustainable agriculture and consumption has been running successfully in cinemas since 8 October 2020. Then came another lockdown and we had to cancel numerous planned screenings.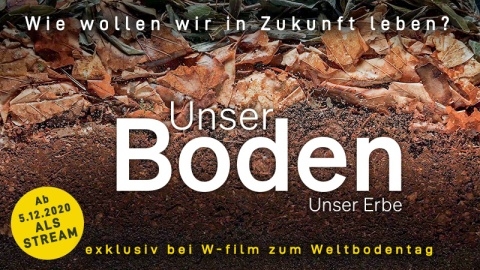 With the agreement of BKM and MFG, "Our Soil is Our Heritage" will be available exclusively for rent for €7.99. In addition, W-film will donate €1 per stream to the FFA, which will use it to support the cinemas. On 26 February 2021, the classic release of DVD and VOD will follow via the W-film shop as well as in retail stores and via conventional platforms.
More about the Film
The documentary "Our Soil is Our Heritage" shows how important and at the same time extremely threatened our livelihood, the soil, is. Director Marc Uhlig vividly conveys why this precious resource deserves our greatest appreciation. Because we can all contribute to the preservation of soil fertility – whether as farmers, gardeners or supermarket consumers! Experts like TV cook Sarah Wiener and politician Ernst Ulrich von Weizsäcker provide valuable food for thought.
Further Links und Downloads
Back to news