14/01/2021
Postponed DVD Release of "Our Soil is Our Heritage"
Due to the ongoing lockdown, W-film is postponing the DVD release of "Our Soil is Our Heritage" to 26 March 2021. The VoD release via streaming services such as Amazon remains on the 26 February 2021. Fans of dedicated films can also support our distribution company during the corona crisis directly by buying a DVD or VoD online via the W-film shop at shop.boden.wfilm.de. Since World Soil Day on 5 December 2020, it has been possible to rent "Our Soil is Our Heritage" exclusively as a stream.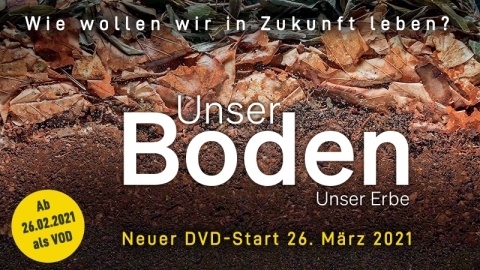 More about the Film
The documentary "Our Soil is Our Heritage" shows how important and at the same time extremely threatened our basis of life, the soil, is. Director Marc Uhlig forcefully conveys why this precious resource deserves our greatest appreciation. Because we can all contribute to the preservation of soil fertility – whether as farmers, gardeners or consumers in the supermarket. Experts such as TV chef Sarah Wiener and environmental scientist Ernst Ulrich von Weizsäcker provide valuable food for thought. An inspiring plea for future-proof agriculture and sustainable nutrition!
Further Links and Downloads
Back to news