16/12/2020
Theatrical release "The Naked King – 18 Fragments on Revolution"
The world is in turmoil: People around the world are protesting for democratic freedom and human rights – but where is the tipping point from protest to revolution? Director Andreas Hoessli asks questions like these in his artful film essay "The Naked King – 18 Fragments on Revolution", which opens in German cinemas on 11 February 2021 on the 42nd anniversary of the Islamic Revolution in Iran.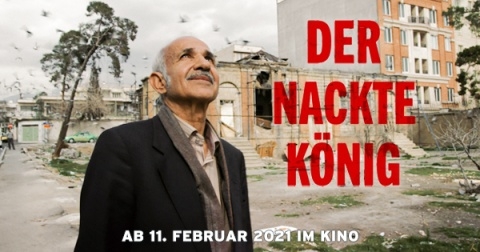 In it, Andreas Hoessli takes us on a philosophical search for traces of the captivating pull of revolutions. Why do they intoxicate entire peoples? What is it that makes them so fascinating? Bruno Ganz narrates the film. Winner of the main prize at DOK.fest München in the "DOK.international Main Competition" series.
Should the lockdown last longer, "The Naked King" will alternatively launch in the W-film online cinema on 11 February 2021.
More about the film
1979, Revolution in Iran. 1980, Revolution in Poland. The fall of the Shah, the 'King of Kings' in Iran, mass strikes and the Solidarność trade union movement in Poland. What was going on in the minds of the young women and men who were involved in the revolutions at that time? What was going on inside them when the revolution was crushed or – as in Iran – a religious-authoritarian elite took power? Director Andreas Hoessli was living in Poland at the time as a research fellow. There he met the prominent writer Ryszard Kapuściński, who was a reporter covering the revolution in Iran. Kapuscinski's notes form the starting point of the film narrative, in which Hoessli also discovers that he himself was being monitored by the Polish secret service at the time and was even to be recruited for its machinations.
Further links and downloads
Back to news